Force is one of my favorite units to teach. There are so many options out there, and students can really get involved, and you can easily tap into their interests. Here are some different ways and ideas for teaching force in your class. Some of these are perfect to use as inquiry investigations before the students learn the basic information, vocabulary, and formulas, and others are great for reinforcing the ideas. I highly recommend incorporating the flipped classroom model during this unit so that you can spend less time in class lecturing and more time in class doing these fun activities.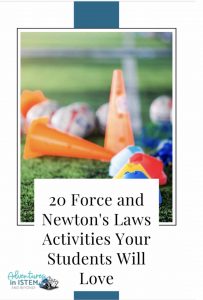 Below you will find
Activities to capitalize on student interest.
Activities to help students physically experience the effect of forces
Online investigations for force
Force Projects
Capitalize on student interest
Most students love watching sports or playing them, and many love video games. This is the perfect unit to use those interests to get students involved more with science. If they love playing sports or watching them, they can create videos, posters, stories, or ebooks. Have them explain their sport, the forces involved with their sport, and how Newton's three laws apply to it. If they love video games, they can also describe how the different forces are applied in their virtual world. They can use screenshots or videos to demonstrate the forces acting on the different objects and how Newton's three laws are applied. They can build rollercoasters in Minecraft and describe how the forces affect the motion of the cart. (I always tell the students that they need to use school appropriate video games so no call of duty or warcraft)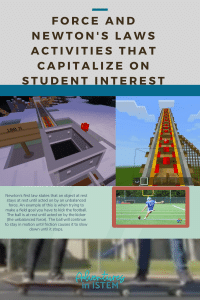 Activities to experience the effect of forces
There are so many great activities out there that allow them to experience the effect of different forces and Newton's laws.
Borrow some soccer balls from the P.E. department and have the students kick them with different amounts of force.
grab different types of balls (soccer, exercise, beach ball…) Let them kick the balls with the same amount of force and discuss how the balls moved.
Have students bring in their skateboards and push off each other while standing on them first gently then with more force. Then have only one person push, and the other keeps their arms straight. They can then discuss the different motions.
Grab a rope and play a little tug-o-war with the class. First, randomly choose the teams, and then you choose the teams based on trying to even out the students. Let them discuss the difference in how easy it was to win or lose the competition.
Do the ball down a ramp lab with marbles but have the marbles hit a cup at the end to push it. Change up the ramp's height to increase the speed of the marble and then change the size of the marble to increase the mass. Students can discuss how changing the mass or the speed affected the marble's force on the cup and its ability to move it. You could also try it on different surfaces to see how friction affected the movement of the cup.
Have students move objects across different surfaces to see how the different surfaces affect the amount of force needed to move. You could use asphalt, tile, desk, grass, sandpaper, or other surfaces.
Balloon rockets are a lot of fun. You can have the students attach balloons to straws that have yarn threaded through them to serve as the track. They can then blow the balloon up half-way to see how far it will move and then again all the way up to see if it can move farther and faster. I find that long thin balloons work better than the standard balloons for this activity.
Online investigation
There are many online investigations. I'm going to focus on the ones that are free and don't require flash
PhET has a great force and motion that has four different activities in one. You could start with them doing the net force activity to learn about Newton's first law and how balanced and unbalanced forces affect an object's motion. They could then do the motion activity to see how changing the applied force and mass affect an object's motion. Next, move onto friction to see how friction plays a role in the motion of an object. Finally, you can move onto acceleration to discover how the combination of applied force, friction, and mass affects an object's acceleration.
PhET also has one on gravity that allows students to manipulate the mass and distance between objects to see how the amount of gravitational force between the objects change. Plus, a simulation that helps students understand gravities role with the orbit of our Moon around Earth and the Earth around the Sun
The physics classroom also has some great interactions that allow students to manipulate the mass, applied force, and friction of an object and see how it affects an object's velocity. This one will also show students a velocity/time graph to visually see how the graph changes when you manipulate one of the variables.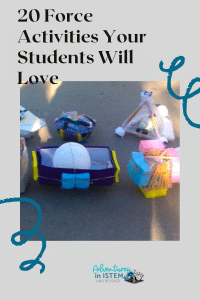 Projects
I like to offer my students a choice when it comes to their end of the unit project for the force unit. Here are just some activities you could have students do.
Newton's car: Have students build a car using recycled materials that move based on Newton's third law. To get their car moving, they could use a rat trap device, a balloon, a rubber band, r any other device that moves in the opposite way of the car's motion.
Egg drop: Have students create containers that will protect an egg as it is dropped from a high height. You could add criteria not to use any premade material, no parachutes, and height and mass restriction for an extra challenge. You could link this to the rover landing on Mars.
Egg car: Combine the egg drop and Newton's car to have students building cars using Newton's third law and protect an egg that would represent a person. Then have the students crash their cars into each other to see if their car can protect their egg in a car crash.
Zipline: Have students create their own zip line containers that will protect an egg as it travels from one end to the next. It is always fun to have the container crash into a wall at the end to see if they can protect the egg from a possible crash on a zipline.
Check out my various videos on force and newton's laws that you could use to teach the students the basics at home and then spend more time in class doing the activities.
If you are teaching motion, check out this post: 10 Awesome Motion Activities Your Students Will Love